Welcome to the Department of Linguistics
Language is the most massive and inclusive art we know, a mountainous and anonymous work of unconscious generations.
― Edward Sapir, Language: an Introduction to the Study of Speech
---
Here at UNM, linguistics is more than just the study of the structure of language. We seek to investigate language as an ever-changing, ever-emerging system of communication. Although different members of the department explore language from a variety of different angles, we all view it broadly as the product of time and experience. Studying language helps us understand our own cognition and what it means to be human.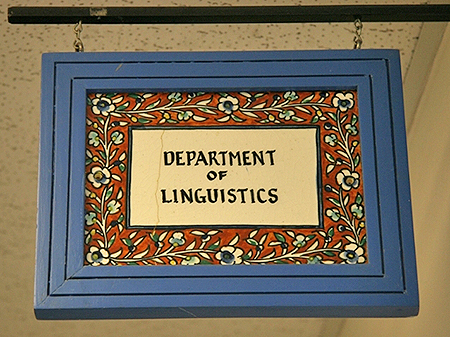 ---
Announcements
---
If you are interested in applying to our PhD program, please read about our Greenberg Fellowship award.   
Shelece Easterday, Aubrey Healey and Laura Hirrel awarded Bilinski Fellowships.
An intersession class on grant writing is being offered by Prof. Holly Jacobson.  See course description for more information.
Congratulations to Prof. Rosa Vallejos Yopan on being selected for a College of Arts & Sciences Teaching Excellence Award
Spring Convocation to take place in Keller Hall, Saturday, May 14 @ 1pm
11th proceedings of the High Desert Linguistics Society (HDLS) from November 13th-15th, 2014 have been published, and are now available online at the following link: http://linggraduate.unm.edu/HDLS11Proceedings.html
 Doctoral student Jackelyn Van Buren awarded a two year Andrew W. Mellon Dissertation Fellowship.
Congratulations to Aubrey Healey on being selected for a College of Arts & Sciences Teaching Excellence Award
LAII Ph.D. Fellowships awarded to Linguistics students Keiko Beers, Rebeca Martínez Gómez, and Andrés Sabogal
Linguistics faculty Melissa Axelrod, Chris Koops and Dawn Nordquist awarded seed funding for a Humanities Working Group Initiative proposal entitled "Stories of Migration: Conceptions of Home and Place".  The project spans faculty in Linguistics, Spanish & Portuguese, Foreign Languages & Literatures, and Geography & Environmental Science.

Professor Emerita Joan Bybee named Collitz professor of the 2017 Linguistic Institute.

Signed Language Interpreting Program receives 10-year accreditation.