Welcome to the Department of Linguistics
Language is the most massive and inclusive art we know, a mountainous and anonymous work of unconscious generations.
                 ― Edward Sapir, Language: an Introduction to the Study of Speech
---
Mission
The UNM Department of Linguistics is the only degree-granting linguistics program in one of the most multilingual and multicultural states in the U.S. As such, it bears particular responsibilities both to the field of linguistics and to the residents of the region it serves. The department thus has two concerns: (1) teaching and research on language structure and use, and (2) service to society on language-related issues. The department's approach to linguistic theory takes a primarily cognitive-functional perspective that focuses on language structure as interacting with language use. Data-driven and fieldwork methods are emphasized to support usage-based analyses of dynamic language phenomena.  This orientation emphasizes the study of language typology, change, discourse, interaction, variation, interpreting, processing, and acquisition. The department is particularly concerned with the study of regional languages (especially Navajo, varieties of Spanish, and indigenous languages of the Americas) and signed languages (American Sign Language, in particular). This theoretical approach provides the foundation for effectively addressing our commitment to the application of linguistics to social concerns, including minority language maintenance and empowerment of minority communities. Thus, the department not only studies and teaches about the structure and use of language, but also encourages faculty and student involvement as advocates and participants in outreach to the linguistic communities in which we carry out research. 
Founded in 1889, the University of New Mexico sits on the traditional homelands of the Pueblo of Sandia. The original peoples of New Mexico – Pueblo, Navajo, and Apache – since time immemorial, have deep connections to the land and make significant contributions to the broader community statewide. We honor the land itself and those who are stewards of this land throughout the generations and also acknowledge our committed relationship to Indigenous peoples. We recognize their linguistic histories and affirm the value their languages and cultures carry within their communities, our state, and the world.
---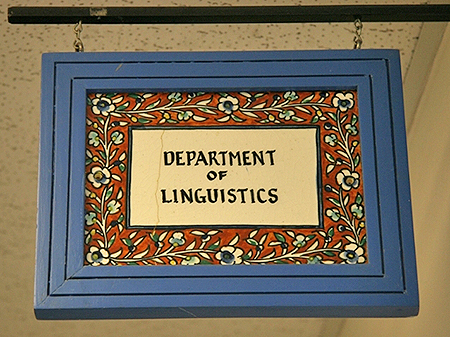 Announcements
---
Dr. Sara Siyavoshi has been awarded a one-year postdoctoral position, with an option to renew for up to three years, at the University of the Free State in Bloemfontein, South Africa. She will be working on a project to document South African Sign Language, starting with video data collection, transcription, and glossing with ELAN. The position starts July 1, 2023. 

Congratulations

 Sara!

Congratulations to Jens Van Gysel for being awarded a @unmlaii Fellowship for 2023-2024! Jens is writing a grammar of Sanapaná, with a focus on linguistic variation.

Congratulations to Daven Hobbs who was awarded a @unmlaii Fellowship for 2023-2024! Daven investigates grammatical complexity and language change in Nheengatu.

Congratulations to Jill Morford and Erin Wilkinson for receiving one of seven Writing Subvention awards for their book, Understanding Signed Languages!
Congratulations to Josh Birchall for his publication-The first comprehensive description of Aikanã, an isolate language of Brazil, together with Hein van der Voort (Museu Goeldi)! https://doi.org/10.1515/9783110419405-001

We are currently advertising a tenure-track faculty position in

typology and cognitive linguistics

. Come work with us and enjoy the Land of Enchantment! Click the link to apply.

Congratulations to Sarah Lease and Naomi Shin on for their publications listed in the 

College's Research Report!
Congratulations, Sarah Lease! Check out her talk at LASSO 2022 from September 24th
Congratulations to Rosa Villejos-Yopán and Eva Rodríguez-González for their publication "Infusing metacognition into advanced linguistics courses" in the Teaching Linguistics section of Language.

High Desert Linguistics Society continues with series of Roadrunner talks. Join them for the next one on "Academic writing in medicine: A register analysis of handouts for patients" by Jennifer Benson. Humanities 134, October 28th at 12pm

unm.zoom.us/j/93484451721
If you are interested in applying to our PhD program, please read about our Greenberg Fellowship award. 
Congratulations to the Class of 2022 from the UNM Department of Linguistics!
Hats off to Jens Van Gysel, who has been awarded a Graduate Research Supplement from Graduate Studies! Jens will use the award to support his creation of a corpus of naturalistic conversations in Sanapaná, an indigenous language of Paraguay.
Congratulations to PhD student Motomi Kajitani who was awarded a Graduate Studies Dissertation Writing Award! Motomi's dissertation uses corpus linguistics to analyze the discourse marker toka in Japanese.
Congratulations to Daven Hobbs who was awarded an LAII PhD Fellowship for 2022-2023! Daven's dissertation investigates whether the grammatical complexity of Neenghatu, a Tupi-Guarani language, has become simplified over the past four centuries as a result of its use as a lingua franca among Portuguese invaders and speakers of multiple indigenous languages of the Amazonian region during Brazil's colonial period.
Shout out to Visiting Asst. Prof. Joshua Birchall, who had an article published today in the Línguas Indígenas Ameríndias (LIAMES) journal: "A comparative reconstruction of Proto-Tupi-Guarani kinship terminology", with co-author Fernando Carvalho.
Hats off to Associate Professor Holly Jacobson, who was selected to participate in FRESSH, a pilot program of the OVPR Office to stimulate transdisciplinary social sciences and humanities research at UNM! Dr. Jacobson investigates language as a social determinant of health disparities.
Welcome Brianna! Brianna Womble is our new Administrative Assistant II in the Signed Language Interpreting Program. Brianna was born and raised here in Albuquerque, NM and is a May 2021 graduate of the Signed Language Interpreting program. She enjoys drinking tea, eating chocolate, and journaling while also being a dog mom to two beautiful dogs. She is looking forward to getting to know everyone and is happy to be working with the program.
Three undergraduates were awarded 2022 ASSURE Fellowships to work with Linguistics Department faculty on their research: Christopher Holets (mentor Associate Professor Rosa Vallejos), Jordan Minke (mentor Visiting Assistant Professor Joshua Birchall), and Jadin Moore (mentor Associate Professor Chris Koops). Congratulations Christopher, Jordan & Jadin!
Congratulations to Brenda McKenna and Dr. Cora McKenna have been selected for the Excellence in Community Linguistics Award by the LSA for their outstanding contributions towards the documentation and revitalization of their language, Nambé Tewa.
Check out this recent open access publication by Visiting Assistant Professor Joshua Birchall: Birchall, Joshua & Cabixi, Olivia Oro Win. 2021. Passos na retomada da língua do povo Oro Win [Steps in the reclaiming of the language of the Oro Win people]. In Tondineli, Patricia G. (ed.) (Re)vitalizar línguas minorizadas e/ou ameaçadas: teorias, metodologias, pesquisas e experiências [(Re)vitalizing Minoritized and/or Endangered Languages: Theories, Methodologies, Research and Experiences], p. 69-82. Porto Velho: EDUFRO.
UNM's Homecoming football game against rival NMSU was broadcast in Navajo. Learn more about the broadcasters, Cuyler Frank & Glen King, who made it possible.
Three undergraduates were awarded 2021 ASSURE Fellowships to work with Linguistics Department faculty on their research: Alicia Broun (mentor Visiting Assistant Professor Joshua Birchall), Keda Kanye (mentor Associate Professor Naomi Shin), and Jordan Minke (mentor Visiting Assistant Professor Joshua Birchall). Congratulations Alicia, Keda & Jordan!
Congratulations to Joseline Segovia who was selected by Women in Voice to participate in a Career Accelerator in the field of Voice Technology.
Tune in next Tuesday, Sep 7 at 11am Mountain Time to Professor Emeritus William Croft's lecture entitled What's Typology Got To Do With Analyzing Your Language? in the Abralin ao Vivo series online!
STEM Shoutout to Professor Caroline Smith! Read more here: https://advance.unm.edu/2021/08/14/stem-shoutout-dr-caroline-smith/
Lukas Denk is creating a Navajo Corpus for Historical Narratives using "Navajo historical selections" by Robert W. Young and William Morgan (1954). The volume contains 29 selected, edited and translated texts and is public domain in the US. His goal is to annotate at least two full texts in Fall 2021 (about 3000 Navajo words) and three texts in Spring 2022 (about 4000 words). The corpus has several annotation tiers, such as the morphemes, words and a free translation. This corpus will help empirical research on the Navajo language.
The Department of Linguistics is pleased to announce that Professor Caroline Smith has been promoted to the rank of Full Professor. We wish her success on her sabbatical research investigating the perception and production of prosody by first and second language learners of French.
The Department of Linguistics is pleased to announce that Dr. Dawn Nordquist has been promoted to the rank of Senior Lecturer III. We also congratulate her on her contract from Cambridge University Press to write an introductory Linguistics textbook that emphasizes the essential skills that students learn while studying linguistics and replicating research studies in the discipline.
Congratulations to Assistant Professor Melvatha Chee and everyone else who helped to make the Summer Diné Language Immersion Camp a success! Families, teachers and children attended the event at UNM's SUB Ballroom.
Graduate students David Paez and Jens Van Gysel were both awarded Fellowships for 2021-22 from the LAII to pursue their doctoral research. David's dissertation will provide the first description of multimodal imitative expressions in Colombian Spanish and Jens' dissertation is a reference grammar of Sanapaná, an endangered indigenous language spoken by about 1000 community members living in the Paraguayan Chaco region. ¡Felicitaciones a David y Jens!
Don't miss the 22nd Diné Studies Conference!
Pav Kalm of Linguistics and Mark Cisneros of Spanish & Portuguese have both been named 2021-22 Bilinski Fellows. Congratulations Pav & Mark!
Congratulations to Frances Jones who was awarded a Center for Regional Studies Fellowship!