Welcome to the Department of Linguistics
Language is the most massive and inclusive art we know, a mountainous and anonymous work of unconscious generations.
― Edward Sapir, Language: an Introduction to the Study of Speech
---
Mission
The UNM Department of Linguistics is the only degree-granting linguistics program in one of the most multilingual and multicultural states in the U.S. As such, it bears particular responsibilities both to the field of linguistics and to the residents of the region it serves. The department thus has two concerns: (1) teaching and research on language structure and use, and (2) service to society on language-related issues. The department's approach to linguistic theory takes a primarily cognitive-functional perspective that focuses on language structure as interacting with language use. Data-driven and fieldwork methods are emphasized to support usage-based analyses of dynamic language phenomena.  This orientation emphasizes the study of language typology, change, discourse, interaction, variation, interpreting, processing, and acquisition. The department is particularly concerned with the study of regional languages (especially Navajo, varieties of Spanish, and indigenous languages of the Americas) and signed languages (American Sign Language, in particular). This theoretical approach provides the foundation for effectively addressing our commitment to the application of linguistics to social concerns, including minority language maintenance and empowerment of minority communities. Thus, the department not only studies and teaches about the structure and use of language, but also encourages faculty and student involvement as advocates and participants in outreach to the linguistic communities in which we carry out research.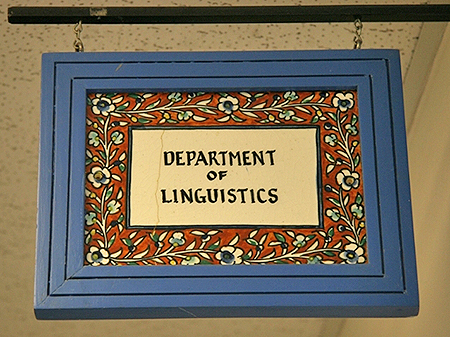 ---
Announcements
---
If you are interested in applying to our PhD program, please read about our Greenberg Fellowship award. 
Professor Ana Celia Zentella spoke to standing-room-only crowd of both university and community members on February 17, 2017 as the keynote of Language Diversity Awareness Week.  Our appreciation goes out to the HDLS leadership, students and faculty who contributed to a week of stimulating presentations.
Professor Bill Croft awarded a Teaching Allocation Grant by the Center for Teaching Excellence to develop an online tool to teach students how to graphically analyze sentence structure.
Welcome back to Professor Barbara Shaffer, returning from a sabbatical which allowed her to make significant progress on a book with co-author Terry Janzen of the University of Manitoba entitled Intersubjectivity in Interpretation: A Cognitive View of Interpreter-Mediated Discourse, forthcoming in the John Benjamins Human Cognitive Processing series.
Professor Melissa Axelrod honored with Ken Hale Award at the 2017 meeting of the Linguistic Society of America on January 7, 2017 in Austin, Texas.

Professor Emerita Joan Bybee named Collitz professor of the 2017 Linguistic Institute.