Welcome to the Department of Linguistics
Language is the most massive and inclusive art we know, a mountainous and anonymous work of unconscious generations.
― Edward Sapir, Language: an Introduction to the Study of Speech
---
Mission
The UNM Department of Linguistics is the only degree-granting linguistics program in one of the most multilingual and multicultural states in the U.S. As such, it bears particular responsibilities both to the field of linguistics and to the residents of the region it serves. The department thus has two concerns: (1) teaching and research on language structure and use, and (2) service to society on language-related issues. The department's approach to linguistic theory takes a primarily cognitive-functional perspective that focuses on language structure as interacting with language use. Data-driven and fieldwork methods are emphasized to support usage-based analyses of dynamic language phenomena.  This orientation emphasizes the study of language typology, change, discourse, interaction, variation, interpreting, processing, and acquisition. The department is particularly concerned with the study of regional languages (especially Navajo, varieties of Spanish, and indigenous languages of the Americas) and signed languages (American Sign Language, in particular). This theoretical approach provides the foundation for effectively addressing our commitment to the application of linguistics to social concerns, including minority language maintenance and empowerment of minority communities. Thus, the department not only studies and teaches about the structure and use of language, but also encourages faculty and student involvement as advocates and participants in outreach to the linguistic communities in which we carry out research.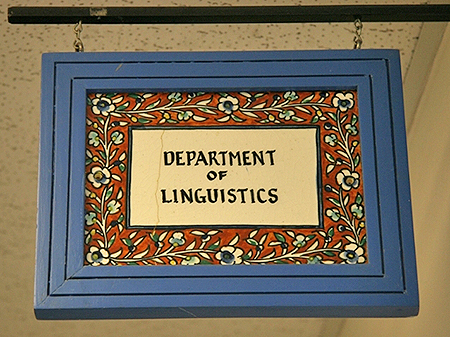 ---
Announcements
---
If you are interested in applying to our PhD program, please read about our Greenberg Fellowship award. 
The College of Arts & Science has awarded Linguistics Major Brandon Martinez an Undergraduate Research Initiative grant to pursue his project Endangered Language Pedagogy & Teaching Methodology, under the direction of Professor Melissa Axelrod.
Department welcomes presenters and participants to the 13th Biennial High Desert Linguistics Society Conference.  Keynotes are Sally Rice, Eve Sweetser, and Ronnie Wilbur.
Department completes Academic Program Review September 28 – 30
NEH Next Generation Planning Grant awarded to faculty in History, Linguistics, American Studies and English to support development of Career Diversity Initiative. 
Linguistics major Amber Lopez travels to Yale University to participate in language documentation project on Algonquian languages
UNM faculty and students make a strong showing at the Seventh Conference of the International Society for Gesture Studies in Paris, July 18-22.  Among those presenting papers and posters are Benjamin Anible, Laura Hirrel, Hui-chieh Hsu, Corrine Occhino, Barbara Shaffer, Sherman Wilcox and Visiting Scholar Elidéa Bernardino.
Lecturer Dawn Nordquist was selected to be one of the 2016-17 UNM Teaching Fellows. Dawn will develop a new curriculum for LING 301: Introduction to Linguistic Analysis using narrative as a device for content delivery, but also as a device for creating engaging and welcoming learning environments.
Professor Emerita Joan Bybee has been elected as a Fellow of the Cognitive Science Society.
Dr. Hugo García-Macías, who graduated in May, & Linguistics MA and LLSS PhD student Abdelbaset Haridy were awarded 2015-2016 Susan Deese-Roberts Outstanding Teaching Assistant Awards.
Department Colloquium by Rain Bosworth, of UCSD, to take place on May 23 at 4pm in Humanities 134.  Rain's colloquium is titled, "How The Eyes "Read" Sign Language: An Eyetracking Investigation of Children and Adults during Sign Language Processing"
Shelece Easterday, Aubrey Healey and Laura Hirrel awarded Bilinski Fellowships.
Congratulations to Prof. Rosa Vallejos Yopan on being selected for a College of Arts & Sciences Teaching Excellence Award
Spring Convocation to take place in Keller Hall, Saturday, May 14 @ 1pm
11th proceedings of the High Desert Linguistics Society (HDLS) from November 13th-15th, 2014 have been published, and are now available online at the following link: http://linggraduate.unm.edu/HDLS11Proceedings.html
 Doctoral student Jackelyn Van Buren awarded a two year Andrew W. Mellon Dissertation Fellowship.
Congratulations to Aubrey Healey on being selected for a College of Arts & Sciences Teaching Excellence Award
LAII Ph.D. Fellowships awarded to Linguistics students Keiko Beers, Rebeca Martínez Gómez, and Andrés Sabogal
Linguistics faculty Melissa Axelrod, Chris Koops and Dawn Nordquist awarded seed funding for a Humanities Working Group Initiative proposal entitled "Stories of Migration: Conceptions of Home and Place".  The project spans faculty in Linguistics, Spanish & Portuguese, Foreign Languages & Literatures, and Geography & Environmental Science.

Professor Emerita Joan Bybee named Collitz professor of the 2017 Linguistic Institute.

Signed Language Interpreting Program receives 10-year accreditation.