Welcome to the Department of Linguistics
Language is the most massive and inclusive art we know, a mountainous and anonymous work of unconscious generations.
                 ― Edward Sapir, Language: an Introduction to the Study of Speech
---
Mission
The UNM Department of Linguistics is the only degree-granting linguistics program in one of the most multilingual and multicultural states in the U.S. As such, it bears particular responsibilities both to the field of linguistics and to the residents of the region it serves. The department thus has two concerns: (1) teaching and research on language structure and use, and (2) service to society on language-related issues. The department's approach to linguistic theory takes a primarily cognitive-functional perspective that focuses on language structure as interacting with language use. Data-driven and fieldwork methods are emphasized to support usage-based analyses of dynamic language phenomena.  This orientation emphasizes the study of language typology, change, discourse, interaction, variation, interpreting, processing, and acquisition. The department is particularly concerned with the study of regional languages (especially Navajo, varieties of Spanish, and indigenous languages of the Americas) and signed languages (American Sign Language, in particular). This theoretical approach provides the foundation for effectively addressing our commitment to the application of linguistics to social concerns, including minority language maintenance and empowerment of minority communities. Thus, the department not only studies and teaches about the structure and use of language, but also encourages faculty and student involvement as advocates and participants in outreach to the linguistic communities in which we carry out research.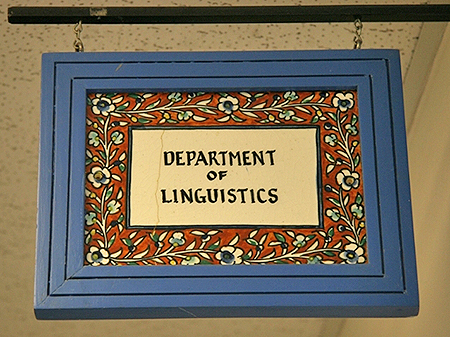 ---
Announcements
---
If you are interested in applying to our PhD program, please read about our Greenberg Fellowship award. 
Drop by the UNM Spring 2020 Conference on Teaching Excellence in SUB Ballrooms A&S on March 9th to see doctoral student Chris Peverada presenting a poster on "Teaching Linguistics through Conlanging" from 9am - 9:30am, and for a Lightning Talk on "Undergraduate Research in the Core" being given by Lecturer III Dawn Nordquist between 9:30am and 10:30am.
Congratulations to former and current students who have landed tenure-track jobs recently: Alumna Ahrim

 

Kim

 

will be an Assistant Professor in the English Linguistics and Literature department at Myongji University in Seoul, and current student Joan Wilson will start as Assistant Professor of Communication Disorders at NMSU in the Fall!
Our hats go off to Professor Sherman Wilcox, who was elected President of the International Cognitive Linguistics Association. Don't miss his presidential address at the next ICLC conference!
Congratulations to BriAnne Amador, who won the Jean Berko Gleason Student Presentation Award at the 44th Annual Boston University Conference on Language Development!
The Navajo Language Program invites you to attend a special lunch and presentations by Indigenous Language Scholars titled Indigenous Language is Life. The event takes place Wednesday, November 6 from noon to 3pm at the UNM Hibben Center.
2019 is the UNESCO International Year of Indigenous Languages! One of many events in honor of the year is a Perspectives conference at Purdue University, Fort Wayne. Invited speaker Assistant Professor Melvatha Chee will contribute to the conference celebration of indigenous languages and indigenous perspectives.
Congratulations to Professor Emerita Melissa Axelrod who was awarded an NSF Grant, titled A Community-Based Re-Analysis of Narratives in Jicarilla Apache. Together with Dr. Veronica Tiller and a team of native-speaking Jicarilla Apache elders, the investigators will develop new transcriptions and translations of Jicarilla Apache texts gathered in the 1890s to 1930s by James R. Mooney, Pliny A. Goddard, and others.
Welcome back to the many UNM linguists who presented papers at the International Cognitive Linguistics Conference in Nishinomiya, Japan, including Professor Emeritus Bill Croft, Alumnus Dr. Terry Janzen, Professor Barbara Shaffer, Alumna Dr. Laura Hirrel, PhD Student Motomi Kajatani, and Professor Sherman Wilcox.
Professor Caroline Smith, PhD Student Daejin Kim and Alumna Dr. Shelece Easterday traveled down under to present their research at the International Congress of Phonetic Sciences in Melbourne, Australia August 5 – 9, 2019.
Professor Sherman Wilcox gave a talk entitled "Pointing and Placing in Signed Language Discourse" at the National Institute for Japanese Language and Linguistics, Tokyo, Japan on August 3, 2019. Following the talk, Professor Wilcox conducted a workshop on sign linguistics for deaf researchers.
The Association for Linguistic Typology recently announced that Dr. Shelece Easterday is this year's recipient of their Joseph Greenberg Award for the best piece of typological research embodied in a doctoral dissertation or equivalent. Dr. Easterday graduated from UNM Linguistics in 2017, receiving a distinction for her dissertation entitled "Highly Complex Syllable Structure: A Typological Study of its Phonological Characteristics and Diachronic Development." A revised version of this will be published later this summer by Language Science Press, in the series Studies in Laboratory Phonology. Shelece is currently a post-doc at the Laboratoire Dynamique du Langage in Lyon, France. Congratulations, Shelece!
Read the Linguistic Society of America Statement on Race recently approved by the LSA Executive Committee.
Roadrunner Undergraduate Linguistics Society Outreach Committee presented "Challenging Linguistic Prejudice" workshop for the 1st annual NM Youth Celebrate Diversity Conference (April 6, 2019) 
 The Alumni Association selected Assistant Professor Christian Koops for the Faculty Teaching Award for 2019! Congratulations Professor Koops!
Joan Esse Wilson, a Ph.D. student in Linguistics (with a concentration in Speech and Hearing Sciences), is in the news for her work with Dr. Claudia Tesche, a Professor in the Department of Psychology, on Autism Spectrum Disorder.