Welcome to the Department of Linguistics
Language is the most massive and inclusive art we know, a mountainous and anonymous work of unconscious generations.
― Edward Sapir, Language: an Introduction to the Study of Speech
---
Mission
The UNM Department of Linguistics is the only degree-granting linguistics program in one of the most multilingual and multicultural states in the U.S. As such, it bears particular responsibilities both to the field of linguistics and to the residents of the region it serves. The department thus has two concerns: (1) teaching and research on language structure and use, and (2) service to society on language-related issues. The department's approach to linguistic theory takes a primarily cognitive-functional perspective that focuses on language structure as interacting with language use. Data-driven and fieldwork methods are emphasized to support usage-based analyses of dynamic language phenomena.  This orientation emphasizes the study of language typology, change, discourse, interaction, variation, interpreting, processing, and acquisition. The department is particularly concerned with the study of regional languages (especially Navajo, varieties of Spanish, and indigenous languages of the Americas) and signed languages (American Sign Language, in particular). This theoretical approach provides the foundation for effectively addressing our commitment to the application of linguistics to social concerns, including minority language maintenance and empowerment of minority communities. Thus, the department not only studies and teaches about the structure and use of language, but also encourages faculty and student involvement as advocates and participants in outreach to the linguistic communities in which we carry out research.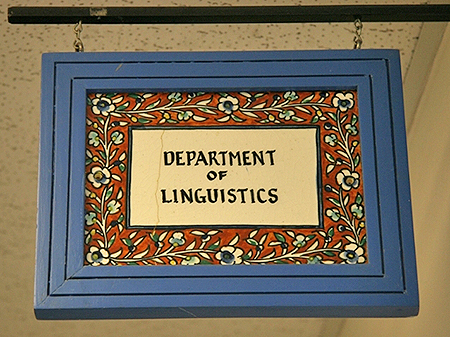 ---
Announcements
---
If you are interested in applying to our PhD program, please read about our Greenberg Fellowship award. 
On February 6, Dr. Dolly Manson was installed as a member of the Board of Directors with the Chine Comprehensive Health Care Facility (CCHCF) in Chinle, Arizona in the heart of Navajo land.  Strong Navajo cultural traditions and language use exist within the area, offering an opportunity to learn the Navajo language, or to learn about traditional Navajo medicine. As Program Director of the Navajo Language Program, Dr. Manson has promoted the use of Navajo in professional contexts, including Medical Navajo.
Our students report that Lecturer Dawn Myers brings "passion and dedication" to the classroom.  Her outstanding mentoring and teaching is being recognized with the Arts & Sciences Teaching Award for Excellence. Congratulations Dawn!
The University of New Mexico Alumni Association has selected Professor Emerita Phyllis Perrin Wilcox for the Bernard S. Rodey Award.  This award recognizes those whose leadership efforts have contributed significantly to the field of education.  Hats off to Professor Wilcox!
Congratulations to Prof. Esther Brown, UNM alumna and Associate Professor in the Department of Spanish & Portuguese at the University of Colorado, Boulder, for being awarded the Greenleaf Scholarship by the LAII.  We look forward to a colloquium by Prof. Brown on January 29 at noon in Ortega Hall Reading Room (ORTG 335). 
Happy New Year 2018! We're off to a running start with the 92nd Annual Meeting of the Linguistic Society of America which took place January 4-7 in Salt Lake City.  Students Daven Hobbs, Ricardo Napoleão de Souza, Jalon Begay and Jens Van Gysel as well as faculty members Chris Koops, Jill Morford and Rosa Vallejos presented their work at the Meeting.
The Department of Linguistics mourns the loss of our colleague and friend, Professor Emeritus Alan Hudson. Alan, a native of Ireland, completed his PhD at Yeshiva University on language attitudes and came to UNM in 1974. While serving as Chair, he negotiated the transition of Linguistics from program to department, and worked to establish the PhD in Linguistics. He was also a great contributor to the local theatre community.  Those of us who knew him well will miss his vision, energy and talent.
Dr. Dolly Manson was interviewed on KOB's Eye on New Mexico to discuss Navajo language maintenance efforts.  Click on the link to watch a recording of the show!
Hats off to our December 2017 graduates!  Congratulations and Best Wishes!
We are sorry to report the loss of our dear friend and colleague Professor Emerita Vera John-Steiner.  Professor John-Steiner, who had a joint appointment in Linguistics and LLSS, was internationally renowned for her work on collaboration and creativity as well as interpreting the works of Lev Vygotsky.  A memorial event to honor Professor John-Steiner is being planned for June 2018.
Associate Professor Caroline Smith, in cahoots with Cathy Rogers of the University of South Florida, coordinated a panel on "Teaching Phonetics in the New Millenium" at the 174th Meeting of the Acoustical Society of America in New Orleans
The Call for Papers for HDLS 13 is now available!  HDLS 13 will take place November 9-11, 2018 at UNM.  We hope to see you there!
The inaugural Lobo Linguist Alumni Eventtook place on Thursday, November 8 at Hodgin Hall from 5pm to 7:30pm.  Professor Emerita Joan Bybee demonstrated a "gram" cracker to students, Graduate Student Laura Hirrel gave us all the Thumbs Up, and newly-minted PhD Susan Brumbaugh worked with her collaborator Professor Chris Koops to explain phonetic features of Lynette's Burqueño accent! Thanks to all who returned to campus to enjoy this time together.
The TA Master Course developed by Lecturer Dawn Nordquist  with help from graduate student Keiko Beers has been nationally certified by Quality Matters.  The Quality MattersCertification is awarded to courses that meet 21 essential standards, and brings national recognition to UNM and to our department.
UNM students and faculty were featured at the 2017 Hispanic Linguistics Symposium in Lubbock, Texas.  Plenary speaker Lourdes Ortega praised the research of Naomi Shin, Sara Schulman and Damian Vergara Wilson as exemplary models for the field.  ¡Bien hecho, colegas!
Welcome back to the UNM faculty and students who presented papers at the 46th  Annual Meeting of the Linguistic Association of the Southwest (LASSO) in Las Cruces, NM: Aja Armijo, Jennifer Arnason, Len Beké, Susan Brumbaugh, Rebeca Martínez Gómez, Derlly González González, Carlos Enrique Ibarra, Karol Ibarra Zetter, Daejin Kim, Chris Koops, Jill Morford, Molly Perara-Lunde, Bettie Petersen, Mateo Rocha, Barbara Rodríguez, Eva Rodríguez González, Barbara Shaffer, Naomi Shin, Desirée Ramírez Urbaneja, Rosa Vallejos, Damián Vergara Wilson, and Michael Woods.
In accordance with the University Policy on Diversity and Campus Climate, the Linguistics Department strives to create and maintain a diverse community in which students, faculty and staff can thrive, free from any sort of harassment, intimidation, discrimination or retaliation. A graduate student will assist the department in achieving these goals each semester by serving as LoboRespect Liaison.  Suggestions and ideas for the LoboRespect Liaison can be forwarded to linguist@unm.edu. Thank you to Ricardo Napoleão de Souza who has agreed to serve in this role for the 2017-18 academic year!
Congratulations to Lecturer Dawn Nordquist, who was awarded the Online Course Advisory Best Practices Certificate by Extended Learning for a TA Master Course for Linguistics 101.  Nordquist collaborated with graduate student Keiko Beers to develop the Master Course curriculum.
CLASP V, a multidisciplinary conference, has selected Rebeca Martínez Gómez to give the Student Plenary for her submission entitled, "Linguistic Styles and Visual Information: The Effect of Stereotype Congruence on Social Meanings", which won the Best Graduate Student Paper in Cognition, Language and Social Practice.  The conference takes place September 15 – 17 in Boulder, Colorado.  Felicitaciones, Rebeca!
Professor William Croft has been named a Fellow of the Cognitive Science Society.  Fellows are selected on the basis of their professional integrity and for research that has exhibited sustained excellence and has had sustained impact on the Cognitive Science community.  Congratulations Bill!
Associate Professor Naomi Shin has just returned from Lyon, France where she gave a presentation about her research on the acquisition of variable morphosyntax at the 14th International Congress for the Study of Child Language.
Associate Professor Barbara Shaffer presented her research on deixis and gesture spaces in signed languages at the International Cognitive Linguistics Conference in Tartu, Estonia.
Lecturer Christena Griffin was a participant at this year's American Sign Language Teachers Association annual conference in Salt Lake City.  The theme of the conference was ASL Elevated!
Welcome back to Associate Professor Caroline Smith, who presented a talk on "Articulatory correlates of French and English metrical structure: Influences on L1 and L2" at Phonetics & Phonology in Europe in Köln, Germany.
Professor Bill Croft presented a talk on Event causation and force dynamics in argument structure constructions at the Linguistic Perspectives on Causation conference held at the Hebrew University of Jerusalem
Congratulations to Rosa Vallejos who has been awarded tenure and promoted to Associate Professor in Linguistics and in Spanish & Portuguese.
Associate Professors Naomi Shin and Barbara Shaffer with collaborator Jill Morford were among 10 UNM scientists selected for the 2017 Women in Stem Awards distributed by Advance at UNM, a five-year National Science Foundation-funded project that aims to boost women and minorities in STEM at the University of New Mexico.
UNM will confer upon Mrs. Cora McKenna of Nambé Pueblo the honorary degree of Doctor of Letters (Litt.D.) for her language revitalization work in collaboration with Professor Melissa Axelrod.  The degree will be conferred at the University Commencement ceremonies on Saturday, May 13 at 9am in WisePies Arena (The Pit), with an additional recognition at the Department of Linguistics Convocation on Saturday, May 13 at 1pm in Keller Hall.
Graduate student Andrés Sabogal, who recently returned from completing fieldwork on Wayuunaiki in Columbia, has been selected for the prestigious Russell J. and Dorothy S. Bilinski Fellowship!
Congratulations to Keiko Beers who was awarded a Mellon Dissertation Fellowship for her study of language obsolescence and language change in Tohono O'odham.
Congratulations to undergraduate Linguistics Major Shelby Zubia, who was selected for the third cohort of Mellon Mays Undergraduate Fellows. Shelby's research on language revitalization will be mentored by Lecturer Dawn Nordquist.
Linguistics & English Departments jointly host seminar Friday, April 21, 1pm to 4pm in the Waters Room of Zimmerman Library on Jobs Outside the Professoriate as part of a NEH Next Generation grant awarded to UNM to explore Career Diversity for PhDs in the Humanities.
Check out this story about Associate Professor Rosa Vallejos who was the Featured Linguist on the Linguist List, the official blog of the Linguistic Society of America!
Professor Ana Celia Zentella spoke to standing-room-only crowd of both university and community members on February 17, 2017 as the keynote of Language Diversity Awareness Week.  Our appreciation goes out to the HDLS leadership, students and faculty who contributed to a week of stimulating presentations.
Professor Bill Croft awarded a Teaching Allocation Grant by the Center for Teaching Excellence to develop an online tool to teach students how to graphically analyze sentence structure.
Welcome back to Professor Barbara Shaffer, returning from a sabbatical which allowed her to make significant progress on a book with co-author Terry Janzen of the University of Manitoba entitled Intersubjectivity in Interpretation: A Cognitive View of Interpreter-Mediated Discourse, forthcoming in the John Benjamins Human Cognitive Processing series.
Professor Melissa Axelrod honored with Ken Hale Award at the 2017 meeting of the Linguistic Society of America on January 7, 2017 in Austin, Texas.

Professor Emerita Joan Bybee named Collitz professor of the 2017 Linguistic Institute.