Welcome to the Department of Linguistics
Language is the most massive and inclusive art we know, a mountainous and anonymous work of unconscious generations.
                 ― Edward Sapir, Language: an Introduction to the Study of Speech
---
The Linguistics Department, the Signed Language Interpreting Program and the Navajo Language Program are open remotely. Please contact each program by email or each Staff and Faculty person by their email.
---
Mission
The UNM Department of Linguistics is the only degree-granting linguistics program in one of the most multilingual and multicultural states in the U.S. As such, it bears particular responsibilities both to the field of linguistics and to the residents of the region it serves. The department thus has two concerns: (1) teaching and research on language structure and use, and (2) service to society on language-related issues. The department's approach to linguistic theory takes a primarily cognitive-functional perspective that focuses on language structure as interacting with language use. Data-driven and fieldwork methods are emphasized to support usage-based analyses of dynamic language phenomena.  This orientation emphasizes the study of language typology, change, discourse, interaction, variation, interpreting, processing, and acquisition. The department is particularly concerned with the study of regional languages (especially Navajo, varieties of Spanish, and indigenous languages of the Americas) and signed languages (American Sign Language, in particular). This theoretical approach provides the foundation for effectively addressing our commitment to the application of linguistics to social concerns, including minority language maintenance and empowerment of minority communities. Thus, the department not only studies and teaches about the structure and use of language, but also encourages faculty and student involvement as advocates and participants in outreach to the linguistic communities in which we carry out research. 
---
Founded in 1889, the University of New Mexico sits on the traditional homelands of the Pueblo of Sandia. The original peoples of New Mexico – Pueblo, Navajo, and Apache – since time immemorial, have deep connections to the land and make significant contributions to the broader community statewide. We honor the land itself and those who are stewards of this land throughout the generations and also acknowledge our committed relationship to Indigenous peoples. We recognize their linguistic histories and affirm the value their languages and cultures carry within their communities, our state, and the world.
---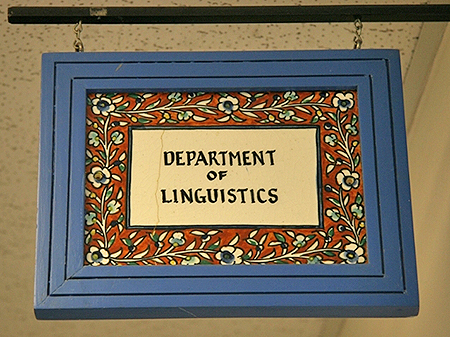 ---
Announcements
---
If you are interested in applying to our PhD program, please read about our Greenberg Fellowship award. 
Congratulations to Associate Professor Rosa Vallejos, who has been named the 2021-2023 Presidential Teaching Fellow! This is the highest honor at UNM in recognition of excellence in teaching.
Check out the virtual 2021 Mother Tongue Film Festival hosted by the Smithsonian Institution!
Read about doctoral student Jens Van Gysel in this Graduate Studies Student Spotlight! Jens chose to study at UNM due to "its commitment to collaborative work with Indigenous communities and other often-overlooked linguistic minorities, such as the Deaf community."
Don't miss the Linguistics Department Colloquium this Friday, Feb 12 at noon. Dr. Wesley Leonard of UC, Riverside will present, Aspects of the Theory of Native American Linguistics. Contact linguist@unm.edu for the link & password.
Meet the authors of Toward Racial Justice in Linguistics: Interdisciplinary Insights into Theorizing Race in the Discipline and Diversifying the Profession (Language, 96 (4) e200 - e235) at an LSA Webinar on Friday, Feb 12 at 2pm Mountain Time
Why do we need Black Deaf Studies? Tune into UNM MA student David Player's presentation on Friday, Feb 12 at 5pm to find out. Registration & details here.
Congratulations to Associate Professor Rosa Vallejos who was selected for the 13th Annual People of Color Awards by the Project for NM Graduates of Color!
Congratulations to Adam Vandegriff who was awarded a Passport to Success Scholarship to support his research on Soqotri! Safe travels, Adam!
Congratulations to Lukas Denk who was selected as a Center for Teaching and Learning (CTL) Remote Teaching Fellow for Spring semester 2020!
Associate Professor Erin Wilkinson is giving the Keynote at the upcoming International Symposium on Deaf Studies and Sign Language and The Seminar on the Interiorization of Sign Language at the Federal University of Alagoas, Brazil. The title of her talk is: "Benefits of sign-print bilingualism: Impact on socio-cognitive development in deaf children and adults."
UNM alumna and Jicarilla tribal member Dr. Veronica Tiller has partnered with Professor Emerita Melissa Axelrod of the Department of Linguistics to record and preserve the Jicarilla Apache language for linguistic scholars and future generations of the tribe. Congratulations to both scholars on landing an NSF grant to support this important work!
Read about Assistant Professor Melvatha Chee's research on how children acquire Navajo verbs!
The Department of Linguistics mourns the loss of Dr. Paul Platero who served as Director of the Navajo Language Program from 2007 - 2014. Dr. Platero, Edge of the Water Clan, died on Monday, November 16 in an automobile collision. He completed his PhD in Linguistics in 1978 at MIT under the direction of Ken Hale with whom he developed a fruitful collaboration. In 2000, Platero published a volume titled The Athabaskan languages: Perspectives on a Native American language family with co-author Ted Fernald. He impacted many students and colleagues during his long teaching and research career.
Kudos to the Organizing Committee of HDLS14 - Sharifa Bahri, Daven Hobbs, Frances Jones, Ryan Smith, Joonyeop Baek, Paul Twitchell, and Len Beke - for pulling off a great conference and maintaining the strong tradition of creating a stimulating and welcoming environment for linguists to share their work!
Congratulations to the recipients of the first award from the Steven Menefee Graduate Fund for Indigenous Language Documentation and Revitalization: to Keiko Beers for the creation of an accessible version of Tohono O'odham narratives from the early 1900s for use by the community, to Jens Van Gysel for his work with the local language maintenance committee and dictionary team for colloquial Sanapaná, an endangered language of Paraguay, and to Ivette Gonzalez, who aims to produce learning-oriented audiovisual recordings in Paipai, a Yuman language spoken in Baja California!
Associate Professor Rosa Vallejos will be giving a talk, "A typological approach to gender indexicality in Kukama-Kukamiria", this Thursday 11/19 (9 am, NM). This is part of the series Permanent Seminar on Native Languages, organized by the Caro & Cuervo Institute, Ministry of Culture of Colombia.
UNM Department of Linguistics faculty launch the Lobo Language Acquisition Lab to study how children learn minority languages.
The UNM Department of Linguistics invites you to our first Colloquium of the 2020-21 year on November 9 at 10am via Zoom. Professor Lisa Green of the University of Massachusetts, Amherst will present, Over Fifty Years of Research on African American English: What Happened to the Children?
Tune in to hear Esther Yazzie-Lewis, instructor in the Navajo Language Program, as she participates as a guest speaker in a webinar entitled Confronting the Climate Crisis: the central role of Indigenous Peoples as frontline defenders against climate change on Monday, October 12, US Indigenous People's Day.
What are the big questions in Romance Linguistics? Read this interview of featured linguist Associate Professor Naomi Shin in Isogloss to find out!
Linguistics major Lanae Lundt was selected as one of two UNM student leaders for the #WeBelongInCollege campaign, a project aimed at increasing social belonging for our student body.
Welcome to Fall Semester 2020. The Linguistics Department will be functioning remotely until further notice. Please contact each program by email or each Staff and Faculty person by their email.
Congratulations to Joselyn Segovia who was selected to participate in Summa Academia this year. We wish you the best of luck on your research project!
Check out this virtual lecture by Associate Professor Rosa Vallejos for the Linguistics Summer School Bolivia on The Use of Visual Stimuli in Field Linguistics on August 13 at 3pm MST.
Congratulations to UNM Alumna Dr. Shelece Easterday who is starting a job as tenure-track Assistant Professor at University of Hawai'i at Mānoa!
STEM Shoutout to Associate Professor Naomi Shin! Read more here: https://advance.unm.edu/2020/08/03/stem-shoutout-dr-naomi-shin/
Tune into this year's virtual Laboratory Phonology conference! The conference is kicked off with a satellite session on Usage-based Approaches to Phonological Change organized by UNM alumni Volya Kapatsinski and Corrine Occhino, also including presentations by Joan Bybee and Esther Brown. Ricardo Napoleão de Souza has a presentation entitled "Domain-initial strengthening beyond phrase-initial segments in Spanish and Portuguese", and André Xavier (former visiting scholar) and Corrine Occhino are presenting "Movement repetition in Libras signs". Prof. Caroline Smith is presenting in the satellite session on Pedagogical Approaches to Laboratory Phonology. Abstracts can be read here: https://labphon.org/labphon17/detailed-programme
Congratulations to Professor Sherman Wilcox who has been promoted to the rank of Distinguished Professor, the highest rank attainable at UNM!
See the UNM News Article on Jacqueline Hirsh Greene who just published a paper on Yiddish loanwords in Lifespans & Styles
Wondering what you can do to effect systemic change in the aftermath of the killing of George Floyd? Read the Linguistic Society of America's Statement on Racial Justice, listen to Justice in America, a new podcast by Josie Duffy Rice and Clint Smith III, or learn more about the construction of race and racism in John Biewen's podcast Seeing White.
Congratulations to Educational Linguistics PhD student Martin Watkins and recent Linguistics BA graduate Jacqueline Hirsh Greene, who were both selected for prestigious Fulbright Awards! Martin is headed to Sienna, Italy to study Italian Sign Language interpreters in a dual language primary school setting. Jacqueline is off to Germany where she will enjoy an English Teaching Assistantship. Buon Viaggio & Gute Reise!
Hats off to Josefina Bittar who has been selected to receive the 2019-2020 Susan Deese-Roberts Outstanding Teaching Assistant of the Year Award!
Congratulations to Associate Professor Chris Koops for receiving two grants from the Jacobs Research Funds and the Phillips Fund to pursue documentation research on Oklahoma Cherokee with his collaborator Hiroto Uchihara of the Universidad Nacional Autónoma de México!
The Department of Linguistics is pleased to welcome Visiting Assistant Professor Joshua Birchall and Visiting Lecturer II Paul Twitchell to UNM for the Fall 2020 semester. Professor Birchall will be relocating from Belém, Brazil where he is conducting fieldwork on indigenous languages of Amazonia, and will teach courses on language typology. Lecturer Paul Twitchell studies how negation is acquired in first and second language learners of ASL, and will be teaching ASL in the Signed Language Interpreting Program.
In light of recent reprehensible acts of cowardice and hate against faculty and students, the Department of Linguistics invites all members of the UNM Community to join us in condemning racism, hate and all forms of dehumanization. We are fortunate to live in one of the most multilingual and multicultural states in the U.S.! We affirm the intellectual and social contributions of every UNM Lobo and celebrate our diversity and differences.
Congratulations to Lecturer III Dawn Nordquist for being selected for this year's A&S Teaching Excellence Award!
Congratulations to Associate Professor Naomi Shin for being selected for this year's A&S Teaching Excellence Award!
Congratulations to Hunter Brown who was awarded an LAII Field Research Grant to study the linguistic expression of motion and dynamic path in Amazonia. He is interesting in exploring the ways in which conceptualizing and talking about space reflect how communities adapt to and interact with their local ecologies.
Congratulations to Joseline Segovia who was awarded an LAII Field Research Grant to examine the discourse conditions under which default gender marking systems can be manipulated. She is also interested in exploring potential correlations between grammatical gender systems with local sociocultural practices in the Amazon.
The Navajo Language Program invites students and community members to attend their virtual Diné Culture Nights and learn some Navajo. The first online meeting had about 50 participants and was covered by KOB news.
LSA Presses for ASL Interpretation of White House Press Briefings. In collaboration with the National Association of the Deaf, the LSA sent a letter in late March requesting that all White House press briefings include an ASL interpreter who is visible to any viewer. A PDF copy of the letter may be downloaded here and the full text is also provided below. We encourage LSA members to also contact the White House to support this request. A similar letter was also sent to the National Association of Broadcasters.
PhD students Josefina Bittar and David Páez were both awarded Fellowships for 2020-21 from the LAII to pursue their doctoral research. Josefina's dissertation investigates the influence of Spanish on Paraguayan Guarani verbs, and David's dissertation will provide the first description of multimodal imitative expressions in Colombian Spanish. ¡Felicitaciones a Josefina y David!
Congratulations to Dr. Dawn Nordquist and Associate Professor Chris Koops, who were both awarded RAC grants! Best of luck to both of them with their research.
Drop by the UNM Spring 2020 Conference on Teaching Excellence in SUB Ballrooms A&S on March 9th to see doctoral student Chris Peverada presenting a poster on "Teaching Linguistics through Conlanging" from 9am - 9:30am, and for a Lightning Talk on "Undergraduate Research in the Core" being given by Lecturer III Dawn Nordquist between 9:30am and 10:30am.
Congratulations to former and current students who have landed tenure-track jobs recently: Alumna Ahrim

 

Kim

 

will be an Assistant Professor in the English Linguistics and Literature department at Myongji University in Seoul, and current student Joan Wilson will start as Assistant Professor of Communication Disorders at NMSU in the Fall!